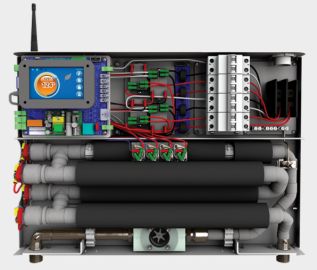 The trutankless electric tankless water heater employs highly accurate sensors, robust solid state electronics, and proprietary software to power one of the most efficient heat exchangers ever produced.
The robust and reliable flow meter helps produce hot water at a consistent temperature, within one degree, even if sudden changes to incoming water temperature or flow occur.
The custom heat exchanger for the trutankless product line that utilizes patent pending Velix technology to heat water as it flows through the system, which means you'll never have to worry about running out of hot water again. Velix technology combines the best materials available and a collection of exclusive features to maximize capacity, minimize energy use, and provide a truly maintenance free experience.